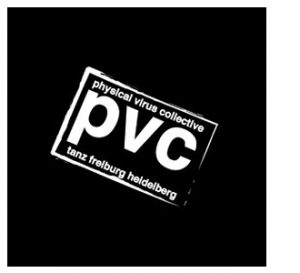 The physical virus collective or pvc Tanz Freiburg Heidelberg was a dance company under the artistic direction of Joachim Schlömer, a laboratory for contemporary dance initiated as a joint project of the theatres in Heidelberg and Freiburg.  
Together with choreographer Graham Smith, theatre director Tom Schneider and manager Johannes Kasperczyk, Schlömer's concept was a marriage between the free-spirited and unconventional freelance dance scene and the organisational structures and technical possibilities of the German city theatres.    
One of the main goals was to nurture the creativity of their dancers and give space to develop their artistic vision, to open up new possibilities by breaking old systems, through multitasking, crossover projects and deliberate overload. Dancers as production managers, stage-hands as musicians, theatre directors as office workers.
Next to creations by Schlömer, Smith and Schneider the company developed and performed pieces with international guests like Korean choreographer Ahn Eun-Me or former Ultima Vez collaborator Gavin Webber.
In 2010 it was decided that the cooperation between the two city theatres would not continue and that the season 2010/2011 would be the last one for pvc.