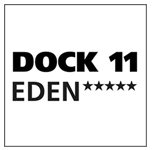 DOCK 11, established in 1994, is located in an old factory building from 1885 in Prenzlauer Berg, Berlin. It is home to two dance studios, a theatre space and a café.
It offers a very varied program of international dance and theatre productions, film screenings, literature, visual arts and design events. In 2009 an additional production and residency centre called EDEN***** was opened in Pankow, adding five large studios and two villas surrounded by extensive gardens to the institutions portfolio.
DOCK11 and EDEN***** continuously offer dance courses, somatic training, yoga and pilates catering to people of all ages, beginners and professionals alike. It's a landmark in Berlin's dance and theatre scene and a lively meeting place for professional artists, movement enthusiasts and audiences.